Come diving with us
Normal dive trip with Octopus Diving center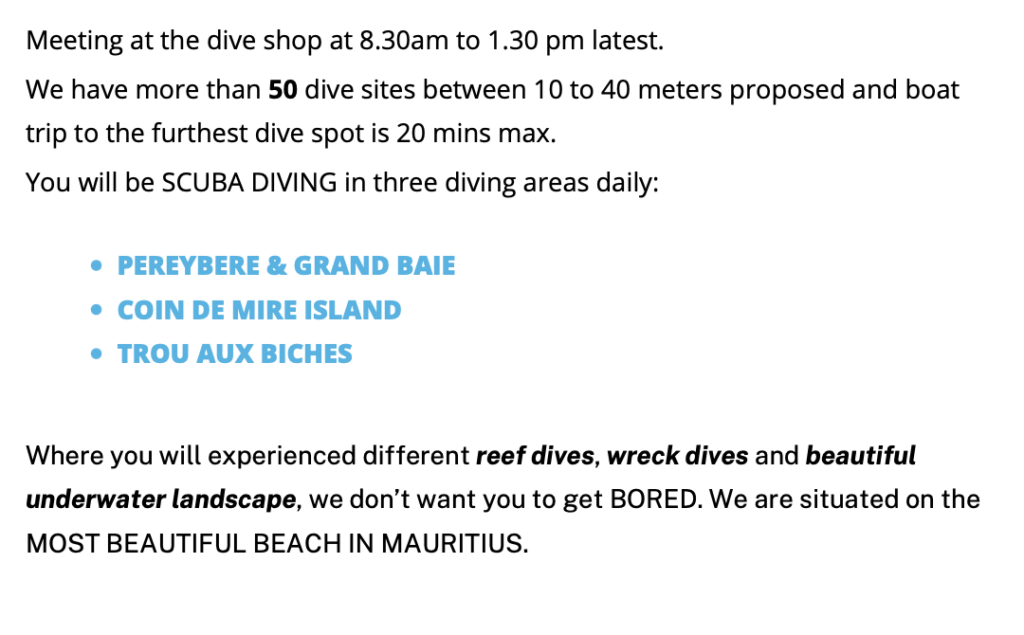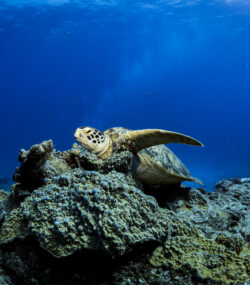 Pereybere - Grand Baie
Twice a week we stay in PEREYBERE and GRAND-BAY, we go to INDIAN CASTLE discovered by our team in 2012 also known as Oasis for its Giant Sting Rays. We also dive at MERVILLE PATCHES famous for its numerous Moray Eels. TIKORAIL is also a nice easy dive appreciated for its Ribbon Eels, Ghost Pipe Fish, Leaf Fish, Stone Fish, Octopus and Nudibranch. GRAND BAY AQUARIUM is known as an easy and relaxing dive with many varieties and group of fish around you and SAMENTHA a deeper dive for Guitar Shark sighting occasionally, Turtles and Rays.  WHALE ROCK and TWIN PEAKS are excellent dives for advanced divers with beautiful underwater landscapes. 
Safari - Flat Island
Flat Island is 15 Km away from Pereybere. This diving excursion is designed for qualified divers. We will dive around Pigeon Rock where we have extremely good visibility and beautiful landscape. We usually see Rays, Turtles, Barracudas and occasionally Reef Sharks. Flat Island itself is a place where you feel disconnected to normal life and we are amazed by its beauty and blue turquoise water. We will do a picnic after the dives in the small bay behind the island on the boat where there is generally no boat traffic and you can enjoy some snorkeling as well. Meeting is at 8 am and back latest 3.30 pm . As from Open-Water Diver - Nitrox is a plus.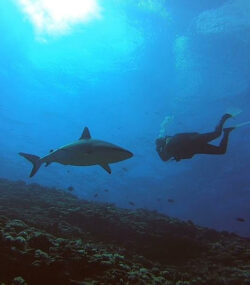 Safari - Round island
(35 km boat trip) For spectacular dives sites we propose SNAKE and ROUND ISLAND for shark observation in there natural habitat, common marine life in the area are: Eagle Rays, Giant Baracudas, Tuna, King Fish. Dives usually happens at CATHEDRAL or SHARK ARENA for Shark sightings. Dive on the spectacular drop-off of TERRA CANYON and RED BANK with 60 meters+ visibility and amazing landscapes. It is also a place where conditions can be challenging some times with strong current and surge, this is why we have healthy reefs and big fish because it is less accessible for fishermen and divers to venture there in winter, it allows the reefs and give the fish enough time to regenerate and reproduce with little to no interactions with humans. The dive sites are accessible as from October to May due to weather conditions. The best time is October to December where we see and increase population of Grey Reef Sharks. Safari at Snake and Round Island is for qualified divers only or for sea birds sighting and it is the best dives that Mauritius can offer you !!! It is also a protected area by the Wild Life Foundations like the other remote islands around Mauritius. Meeting 7.30 am back at 2.30 pm (8 pax minimum)
Terms and conditions for shark safari : Recommended nitrox and Advanced Open Water license with a minimum of 25 dives. Last dive should be at least 3 months before or dive with us first for air consumption and buoyancy check for a better experience there. For reservations, full payment is required and for cancellations it will be 48hrs before.
Trou aux biches
Twice a week we go to TROU-AUX-BICHES for the most popular WRECK DIVING in Mauritius, STELLA MARU that was sunk in 1987 and EMILLY WRECK was the first wreck that was sunk in 1980 on purpose for creating an artificial reef, most of the wrecks in Trou-aux-Biches are accessible for open water divers. Dive sites like LOST ANCHOR and HOLT ROCK have Giant Sea Fans, dives on STENOPUS REEF and BLACK FOREST for their Giant Black Corals and group of Eagle Rays if we are lucky.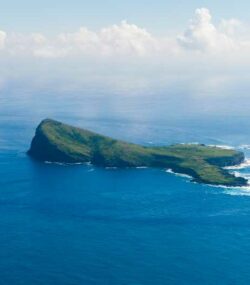 Coin de Mire
We go twice a week to COIN DE MIRE in the morning where we have the most beautiful WRECK DIVE in Mauritius guaranteed. THE WALL is a cleaning station for Big Tunas. CONFETTI BAY for its stunning soft corals and their Giant Moray Eels hidden inside the reefs, Eagle Rays and Sting Rays are often seen there at 3 CAVES or for some adrenaline dives. CARPENTER known for drift dives with spectacular landscape and much more. 
Night dive
Night Dives are usually on Fridays or on demand and the meeting is before SUNSET. Night Dives are done at Coin de Mire island which is the best spot for night dive but only if conditions allow and if we have minimum 6 divers or we can just do a reef dive closer which is also nice. You can choose to do a wreck dive or reef dive for open water. 
Octopus Diving welcomes Tec Divers, however because of our standards we don't go more than 45 meters to 50 meters depending on the dive profile and the certifications of the diver. We provide twinsets, sidemount configuration and stage tank 7 lts or 11.1 lts blended at 50% nitrox. There is a lot to explore like drop-offs, wrecks and beautiful reef dives where you can encounter school of Eagle Rays, school of King Fish, amazing landscapes etc. We have a proper knowledge of our dives sites and we are very experienced in any conditions we may encounter based on our exploration dives. We propose at the dive shop SSI Technical training to 45 meters on twin-set and sidemount.